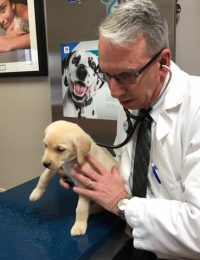 Dr. Hoffman has been working at Shiloh Veterinary Hospital for over 25 years. He became an owning partner in 1987 when the practice moved to Weiglestown. Dr. Hoffman went to Penn State University for his Bachelors in Animal Science and Masters in Animal Nutrition, then graduated from the University of Pennsylvania to begin his Veterinary career.
He enjoys the variety of what happens each day as a veterinarian and the bond that is formed between himself and the patient. His decision to become a veterinarian was based on being able to help animals that can not help themselves. Dr. Hoffman had many veterinary role models over the years: Dr. Newton for his poise and skill, Dr. McGrath for his humanity and humility, Dr. Schaeberle for his 'scribble on the back of an envelope' business sense that is so often correct and the other Dr. Hoffman, his wife, Kathy for putting her hard work and training aside to focus her talents on raising their girls right.
In Dr. Hoffman's downtime, he enjoys spending time with his family, reading fiction and playing tennis. His love of tennis has crossed over to his tennis ball obsessed Beagle Mix, Bosely. He also has 5 sweet old cats named Tibs, Maverick, Goose, Tonks, and Weasely as well as 2 grand kittens named Jackson and Stella who live with his grown-up twin daughters.