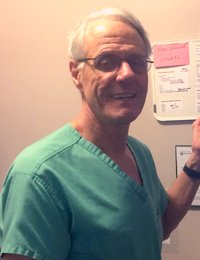 Dr. Schaeberle is the founder of Shiloh Veterinary Hospital. He started the practice in 1979 as a 1 doctor clinic that was located on Carlisle Road. In 1987, he opened the hospital we now know in Weiglestown. His dream to expand the hospital was fulfilled when we opened our second hospital in Manchester in February 2008.
Growing up in a farming environment until the age of 14, he chose a career in veterinary medicine at a young age. Dr. Schaeberle graduated from the University of Pennsylvania in Philadelphia. His favorite part of his day is working with the many great people and pets that come in for appointments. He loves that he gets to share in the joy of pet ownership with them and watch how families grow over the many years.
When Dr. Schaeberle is not in the office you can find him swimming, biking and of course spending time with his wonderful wife, Carolyn. He currently has a very active 4-year-old Standard Poodle named Henry and 3 adventurous cats named Simon, Annie, and Ruby.