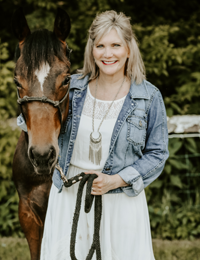 Dr. Deb Bangs was part of the SVH team for almost 20 years before her husband's career with Harley Davidson moved them to Kansas City, MO three and a half years ago. With the impending closure of the KC plant, Harley has brought the Bangs family back to central PA and Dr. Bangs back to SVH!
Dr. Bangs graduated from the Pennsylvania State University with a major in Animal Bioscience and a minor in Microbiology. She earned her D.V.M. from the Iowa State University. Her special interests include feline medicine, pain management and fear-free practice.
In addition to her husband, Kurt, and 14 year old twins, Lin and Brant, her furry family members include Bindi, the most adorable Havanese ever; Sasha, a Siamese mix and queen of the house; and Betty, a solid paint mare.
Dr. Bangs enjoys spending time with her family and friends, going to the beach and ranch riding with Betty. She is also an avid Penn State State fan and looks forward to attending football games this fall in Happy Valley.