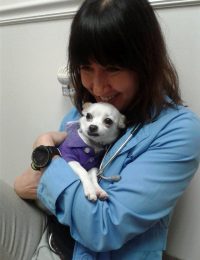 Dr. Katie Berlin has a strong passion for developing the human-animal bond and practicing Fear Free medicine. She grew up in Maryland and has a degree in Art History from Williams College. She is a 2009 graduate of the Cornell University College of Veterinary Medicine.
She currently lives in Lewisberry with her Chihuahua named Franky, and her two senior cats named Simba and Basil. She also has a "quirky" horse named Remy (AKA "Squish" for his squishy nose).
In her spare time, Dr. Berlin enjoys horseback riding and training for half and full marathons. She is also a certified BollyX instructor and enjoys strength training, reading, blogging, and watching cooking reality shows and sports documentaries. In addition to a passion for low-stress veterinary visits, she has a special fondness for senior pets, anesthesia and pain management, and veterinary staff wellness.