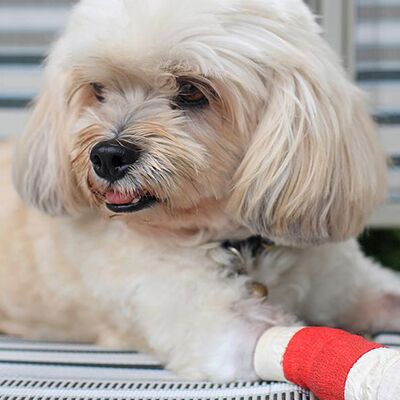 We are proud to offer emergency care for our current clients. We know it can be stressful to see a vet you don't know when your pet is sick, which is why we make our current client's emergencies a priority during business hours. If you think that your pet is experiencing a medical emergency, please call us immediately. Unfortunately, we are not able to tend to emergencies for patients who are not currently in our system. We recommend contacting one of the other local emergency facilities listed below.
After hours when the hospital is closed and you have an emergency, we refer clients to the Animal Emergency Clinic of York. They are located at 1640 South Queen Street, York, PA. Their phone number is 717-767-5355.
Some Signs of Illness Requiring Immediate Veterinary Attention Include:
Frequent Vomiting or Retching
Frequent Bouts of Diarrhea or Straining
Difficulty Breathing (heavy or shallow)
Bloated or Distended Abdomen
Hyperthermia (heat stroke) or Hypothermia (low body temperature)
Straining to Urinate and / or Blood in Urine
Convulsions or Seizures
Any Trauma (hit by a car, falling out of a window, a fight with another animal)
Injury or Irritation to the Eyes
Exposure to Poison or Toxic Chemicals
Inability to Deliver Puppies or Kittens
Burns
Lacerations or Bleeding Wounds
Poison Control
For assistance with treating a potentially poisoned pet, please see the Pet Poison Helpline website at www.petpoisonhelpline.com or call the ASPCA Poison Control (888) 426-4435.
Here is a list of full service, 24 hour emergency clinics in our area.
Animal Emergency and Referral Center (AERC) open 10 am – 10 pm
1640 S. Queen St. York, PA 17403
(717) 767-5355
info.animalerofyork@pathwayvets.com
Center for Animal Referral and Emergency Services (CARES)
2010 Cabot Blvd W D, Langhorne, PA 19047
Hours: Open 24 hours
Phone: (215) 750-2774
Fax: 215-750-3623
Email: vetcares@gmail.com
Mason Dixon Animal Hospital (South)
96 Sofia Drive #203, Shrewsbury, PA 17361
Phone # (717) 432-6030
Email: info@mdaeh.com
(West – 20 mi, 33 min) (East – 22 mi, 28 min)
Pet Emergency Treatment and Specialties (West)
930 N Queen St, Lancaster, PA 17603
(717) 295-7387
(West – 30 mi, 42 min) (East – 27 mi, 37 min)
PET+ ER (CVRC) Towson: 410-252-8387
Address: 1209 Cromwell Bridge Rd, Towson, MD 21286
avimtowson@gmail.com
For the Pet ER email email records to
radiology.pet.er@gmail.com
Pinnacle Vet Specialist
600 Evergreen Drive
Suite 110
Glen Mills, PA 19342
PH: 610-477-8797
Fax: 610-477-0737
info@pinnacle.vet
www.pinnacle.vet
Rossmoyne Animal Emergency Trauma Center (North West) No Longer, only opened 10 AM-10 PM
4930 Ritter Rd, Mechanicsburg, PA 17055
(717) 796-2334
(West – 21 mi, 32 min) (East – 21 mi, 31 min)
Shores Veterinary Emergency Center (North)
835 Sir Thomas Ct, Harrisburg, PA 17109
(717) 798-8500
(West – 30 mi, 41 min) (East – 27 mi, 33 min)
UPenn (Ryan Animal Hospital)
3900 Spruce St, Philadelphia, PA 19104
Emergencies 215-746-8911
Appointments 215-746-8387
Email: Emergencyservice@vet.upenn.edu