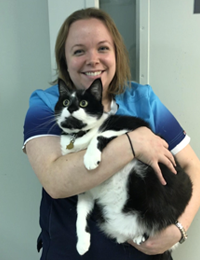 Dr. Onstott joined the Shiloh team in October 2018. She is excited for the opportunities this progressive practice presents!
She is originally from the Harrisburg, PA area and has been involved with the veterinary field for the past 9 years. She attended Wilson College in Chambersburg for undergraduate studies where she received a bachelors in Veterinary Medical Technology with minors in history and chemistry. She passed her boards and became a Certified Technician in time to start Veterinary School at the University of Minnesota (go Gophers!). Dr. Onstott returned to the Harrisburg area following school to practice small animal medicine closer to home. She has had experience with exotic pets, dentistry and has a special interest in nutrition.
Dr Onstott spends her spare time hanging with her pets! She has two dogs – one who's always ready for the next adventure (River) and one who wishes we would all disappear so he could take a long nap on the couch (Evan)! She also has three cats (Simon, Otto, Chase) and two rats (Alice, Darcy). She attempts to be competitive at word games, tries to keep her many plants alive and drags her other half to "fun" geological exhibits. She loves to cook at home and for her work family (as indicated by the many spice jars and crock pot lids labeled "Dr. O" from their trips to the office). She is very excited for this next chapter of her career!