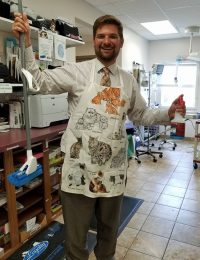 Dr. David Schneider came to Shiloh Veterinary Hospital as a veterinary associate in June of 2008 when the second location was opened in Manchester. He graduated from the University of Maryland and Iowa State University Veterinary School. After graduation, Dr. Schneider was a veterinarian in Hagerstown, MD before moving to Pennsylvania.
Growing up in a family of dentists, he was not sure if he wanted to be a dentist or a veterinarian, but it was his love of animals that eventually won. The family's passion is not too far from his heart, however, as the most enjoyable part of veterinary medicine for him is still performing teeth cleanings and in-depth dentals for pets. Dr. Schneider also loves working with people and looks forward to those rewarding moments when you can share joy and laughter with the owners and their four-legged friends.
He currently has 2 cats named Milo and Hammie, plus an assortment of fish. During his days off he enjoys in his words, "annoying his wife", spending time with his kids, playing golf or cards and woodworking. Currently, he is working on a giant dollhouse for his daughters.