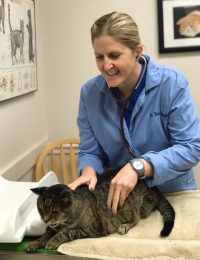 Dr. Owings has been practicing veterinary medicine since 2002. She joined Shiloh Veterinary Hospital in August of 2006. She graduated with her Bachelors of Science from the University of Maryland, College Park, and then received her Doctor of Veterinary Medicine degree from Virginia-Maryland Regional College of Veterinary Medicine (Virginia Tech).
Like most veterinarians there is not a day of her life that she can remember where she did not want to be a veterinarian. When she was young you could find her playing with bugs, salamanders chipmunks, anything that was outside and moving. She very much enjoys being part of the human animal bond, when you see how important pets are to their owners and how she can make a difference. Dr. Owings says, "It is wonderful to be able to treat an illness and both the patient and the owner are so grateful for what you have done. A healthy pet can be so great for the spirit of a person." Her inspiration for her work comes from a veterinarian that she worked for as a student, Dr. John Kable. He was always so kind and willing to teach her the ropes of being a great vet.
Dr Owings has a special interest in Veterinary Rehabilitation. In the same way physical therapy can help human patients, rehabilitation is designed to return or improve a dogs function and quality of life after surgery, injury or disease. She studied with the University of Tennessee and became a Certified Canine Rehabilitation Practitioner (CCRP) in December of 2012. She is excited to be able to offer this service to our clients and their pets.
She currently owns a mixed breed dog named Gracie. When she is not working, she enjoys traveling, yoga, hiking, skiing and working out to stay healthy.