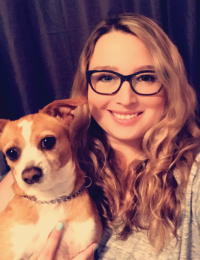 Dr. Colleen Andrews was born in Redding and grew up in York, Pa. As a child, she loved going to zoos and interacting with the animals, and she knew she wanted to work with them because she liked both caring for animals and the practice of medicine.
She received a bachelor's degree in biology from Clarion University in 2015, then graduated from Ross University School of Veterinary Medicine in 2019. She spent a clinical year at Louisiana State University School of Veterinary Medicine.
She joined the Shiloh team in June 2019 and is Fear Free Certified Level 2. She likes the teamwork that the team here demonstrates, as well as how much it fosters and encourages Fear Free visits for pets. She has special interests in ultrasound and staff education, and she enjoys interacting with clients and helping foster the bond between pets and their owners.
She shares her home with Chihuahuas Deb and Reese. She spends her free time catching up on TV shows and movies, going to local breweries and wineries and spending time outdoors, as well as providing a good life for her furbabies.