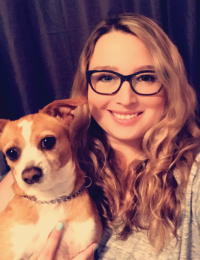 My name is Dr. Colleen Andrews; I am a recent graduate of Ross University School of Veterinary Medicine. Ross is located on the island of St. Kitts where I lived for 2 ½ years and attended my clinical year at Louisiana State Veterinary School. I am from York and grew up here, and went to West York High School (2011 graduate). After High School, I graduated Clarion University in 2015 and received a Bachelor's degree in Biology.
I grew up always knowing that I was going to work with animals. When I was young I always loved going to zoos and interacting with the animals. As I began my journey into the veterinary world, I discovered that I love the human-animal bond just as much as caring for them.
I currently live in York with my island-Chihuahua Deb and her Chihuahua sister Reese. In my spare time I enjoy watching TV, cooking, and gardening.