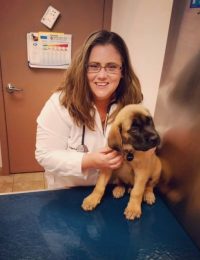 Dr. Stephanie Herr was born in Lancaster County and grew up in Quarryville, PA. She has lived in Lancaster County for most of her life and has always loved animals. She received a BS in animal bioscience from Penn State University and in 2007, she earned a VMD from the University of Pennsylvania School of Veterinary Medicine.
Dr. Herr joined Shiloh in June 2016, where she loves helping patients and their families while working with an amazing, dedicated team. She previously practiced veterinary medicine at a busy companion animal practice in Lancaster County. Her professional interests include dermatology, radiology, internal medicine and surgery. She enjoys small animal practice and witnessing and fostering the human-animal bond.
She and her husband, who is from the United Kingdom, share their home with a tuxedo cat named Murray. Dr. Herr volunteers with a trap-neuter-release organization in Lancaster that helps community cats. She spends her free time with family and friends, traveling and exploring places she hasn't been to before.