by Kelly L. Pyott, CVT
The hardest thing about writing a blog about canine physical therapy is where on Earth to start. Should I capture your attention by describing the fun exercises we do in this program? Maybe be more academic and give you statistics and explanations as to how and why this program works? Interest you with the history and future of physical therapy in small/companion animal medicine? Or maybe dive right in with the success stories of individual patients I've helped over the years in the program?
I think I'll do a little bit of each. But first, to officially start, what exactly is canine physical therapy?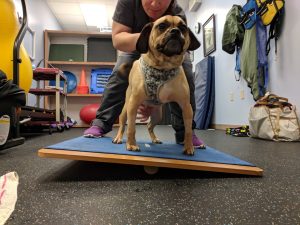 Canine physical therapy is extremely similar to "human" physical therapy. Various methods and modalities are employed to help our canine patients regain and maintain physical strength, range of motion, and overall comfort. This might be a dog who just had orthopedic surgery, one who is older and having trouble with arthritis, or is having neurologic trouble (to name a few instances). Cold laser therapy, hydrotherapy (such as an underwater treadmill), ultrasound therapy, E-Stim, swimming, and land exercises encouraging strength and balance are just a few examples of methods available to help these patients. It is worth noting that while many consider this field a part of sports medicine, any dog can benefit from this work, from a seasoned athlete to the genuine couch potato.
One of the most common things clients tell me, whether they are already established clients of SVH or coming as a referral from another practice, is that until their dog needed it, they did not know that canine physical therapy even existed. It is my hope that in the near future this will change. This is an area of our field that is growing (which makes it even more exciting!). New organizations are forming to make education, certification/credentialing, and knowledge more accessible to veterinary professionals. Quality equipment needed to offer a wider variety of modalities is now easier to come by. All of this helps to bring programs like ours to the forefront of veterinary medicine and gives us more ways to help our patients.
So OK, this is all well and good, but what actually happens during a physical therapy session? What are the results?
Before starting in our program, each patient is evaluated by Dr. Dena Owings, DVM, CCRP (she's the boss of the program!). While there are certainly physical therapy patients who have been coming to our hospital for a long time, in an average year the number of "out-of-house" referrals to the program will exceed the number of "in-house" referrals. Dr. Owings examines each patient, making recommendations that fit that individual's specific needs. This is typically a combination of cold laser therapy, at-home exercises, and exercises done here on a weekly basis. At-home exercises are explained in-depth and informational papers are sent home as well.
During a patient's session, we'll start by warming up with some massage, PROM (Passive Range of Motion), and cold laser therapy. I'll spare you the in-depth explanations and keep it simple by saying all of these things warm-up muscles and joints, stretch out stiff limbs, and control inflammation. They're also a great time to touch base with the patient to look and feel for any changes, as well as with the client. I'll pause here to say that client involvement is one of my favorite things about this program. Clients help with as many exercises as they'd like, and communicate to me any and all changes, concerns, and questions on a weekly basis. This type of communication is absolutely essential to a successful program. After all, I can see a lot in an hour appointment, but the client is still the one living with the patient.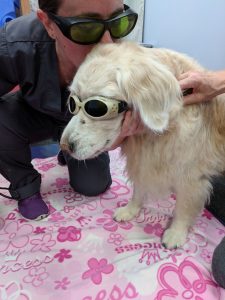 After being warmed up, we move on to the exercises! These can range from constructing an obstacle course (complete with low poles and inflatable bone!) to a walk on our treadmill. Each exercise has multiple benefits, so the same set-up can be used for a variety of patients. For an example, one of our favorite and most popular exercises uses our large inflatable peanut (yes, it's exactly how you're picturing it!). A smaller patient can be gently placed on top of this peanut while it's being held still or rocked slowly back and forth. This engages the patient's muscles and builds strength in limbs that may be healing from surgery, but also challenges balance and body awareness that neurologic conditions can decrease. For the duration of the exercise (and even between exercises), the patient is being watched and evaluated. How well are they moving? Is their gait normal? What is the most challenging part of the exercise to them? What areas of the body are they using well and not so well? All of this information helps to keep tabs on how patients are progressing.
This, of course, is only a small sampling of what happens during a therapy session. As patients progress, we increase the difficulty and sometimes even change the exercises themselves. If a patient enjoys a certain type of exercise, we do our best to build on that exercise and find similar ones to add in later sessions. Of course treats and treat preferences are also a huge part of the process as well, we love making physical therapy as fun as possible for everyone!
Now you understand the method and the reasoning, so how about some results?
I cannot go too deeply into specifics for patient/client privacy; however, I can share a few stories with you. Toward our beginning, we had a large dog come to us post-spinal surgery. He came in unable to walk on his first day. After only a few sessions of physical therapy, he was walking and running again. Several elderly dogs are currently getting physical therapy and/or laser therapy that are now more mobile and playful than they have been in some time. Multiple patients coming to us post-CCL (cruciate ligament) repair arrive hardly bearing weight on their surgical legs and leave the program using their legs very close to normal again. One client told us that it was the first time she felt like she had her dog back since she originally tore her CCL! Physical therapy is not usually the only method used to help these patients, but it has a major role in each case.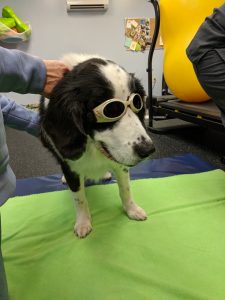 I hope that this post has helped you to understand the potential, the need for, and the importance of physical therapy in small animal medicine. If you feel like your pet could benefit from physical therapy, please don't hesitate to let us know! We are proud and lucky to be able to offer your pet multiple forms of therapy that could greatly help them to feel their best!