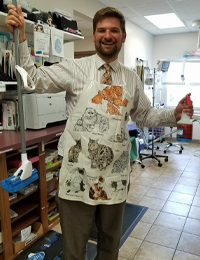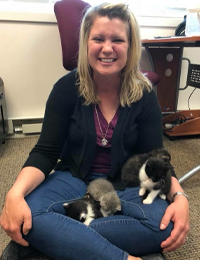 Duties will include care of hospitalized patients, sample collection (venipuncture, cystocentesis etc.), in-house diagnostics including extensive cytology work (ear, skin, FNA, U/A), induction & monitoring of anesthesia, dosage calculations, sterile surgical assistant (our doctors even use a sterile assistant for spays & neuters!), dental cleanings & digital dental radiographs, prepare & maintain CRI drips, maintain isolation protocols, digital radiographs, and client education (instruction for at-home SQ fluids, post-op instructions, etc.), assist with ultrasounds, and administer therapeutic laser treatments. Will also cross train as exam room technician and possibly as a physical therapy technician as well. ALL of our staff are Level 1 Fear Free Certified and are working on Level 2!
Must be able to multitask while providing high quality results. Excellent communications and client relation skills are an absolute must for any of our employees. Must be able to work 2-3 evenings a week and every other Saturday (but there are no overnight shifts, as we are not a 24-hour facility). We are a paperless practice, so computer skills are also essential. Familiarity with AVIMARK management system is a bonus.
Our clinic also performs initial entry as well as random drug testing (saliva test). Wage will be between $12-$16/hr initially, based on experience & skill level. Benefit package includes 401K with employer matching, paid CE, large portion of health insurance paid, employee discount, life insurance, uniform scrubs provided, available vision & dental plans (employee funded), compliance/profit sharing bonuses, and generous paid time off.
Job Type: Full-time
Salary: $14.00 to $16.00 /hour
Application Questions
How many years of Veterinary Technician experience do you have?
Have you completed the following level of education: Associate?
Have you successfully passed the VTNE exam?
Are you willing to undergo a background check, in accordance with local law/regulations?
Do you reside in York County?
APPLY HERE –  Please email all completed applications to michael.warren@myshilohvet.com
Job offers contingent upon drug screen and criminal background check.